Realtors Guide to Mishawaka Indiana Real Estate
Learn all there is to know about the Real Estate market by top Mishawaka IN Realtor, Kevin Foy of RE/MAX Oak Crest Realty Realty. If you have any questions on anything to do with the town and specifically Mishawaka Real Estate, please get in touch as I have been selling here for over thirty five years! There are very few Realtors in Northern Indiana that understand the housing market here as extensively as I do.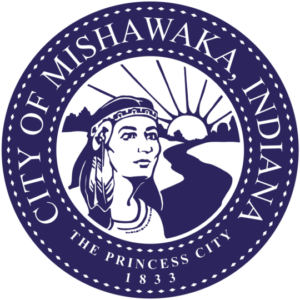 The city of Mishawaka is located in St. Joseph County, a county that encompasses South Bend, Granger, and Mishawaka. According to the United States Census Bureau, Mishawka has a total area of 17.35 square miles.
Mishawaka's recorded history began with the discovery of bog iron deposits at the beginning of the 1830s. Settlers arriving to mine the deposits founded the town of St. Joseph Iron Works in 1831. Within a few years, the town had a blast furnace, a general store, a tavern, and about 200 residents. Business prospered, and in 1833 St. Joseph Iron Works, Indiana City, and two other adjacent small towns were incorporated to form the city of Mishawaka.
Source: https://en.wikipedia.org/wiki/Mishawaka,_Indiana
Adjacent metropolitan areas include South Bend which is 9 miles south west, Chicago which is 105 miles west, and Indianapolis which is 160 miles south. Adjacent cities include Elkhart, Granger, and South Bend.
Mishawaka residents occupy a good mix of jobs within the city of Mishawaka and many others make short commutes to the adjacent cities like South Bend, Elkhart, and Goshen. The median household income is $36,990 and the unemployment rate is 6.2%. The major and prestigious University of Notre Dame is located 7 miles away in South Bend.
Mishawaka has much to offer residents including good schools, parks, golf courses, and nearby access to lakes. Home ownership is 46% vs 42% who rent. Mishawaka is home to plenty of good restaurants, shopping centers, and entertainment. It's often the go to city on weekends for families and millennials with a popular destination being the University Park Mall.
You will also find good access to major commuting highways that can take you west to Chicago, east to Ohio, and south to Indianapolis. Most people who move into town find that there is a strong sense of community and a welcoming place for raising a family.
Mishawaka IN Real Estate
If you're in the market to buy real estate in Mishawaka IN, you'll find lots of Old-fashioned neighborhoods across the city. Many of the newer residential subdivisions that have been developed within the city in recent years have adopted design guidelines to produce the "hometown" neighborhood feel and encourage community spirit. The city continually upgrades and develops new neighborhood park and recreation facilities.
Along with the large supply of houses, you also have the option to purchase townhomes, condominiums or event rent an apartment. Housing is very affordable in Mishawaka making it attractive to first time home buyers.
Whether you're looking for luxury and estate homes, single-family homes, town homes, new construction or possibly a short sale, I am an Mishawaka IN Realtor serving the Northern Indiana market that can help you find exactly what you're looking for!
If you are selling a home, internet marketing is one of my specialties! There are not many Mishawaka Real Estate agents who are providing the type of online exposure my clients receive. Your property will be found in all the top places that most buyers would be searching for Mishawaka homes for sale, including this website which is highly indexed by Google and other search engines. Our idea of good real estate marketing does not stop at putting a for sale sign in the ground and listing on the Multiple Listing Service (MLS).
When it comes to Real Estate advertising, you will find that I do things that other Realtors do not including spending time on social media and SEO optimization. Additional things that help us stand out include exceptional photography from a high-end camera (Canon G7x Mark ii), vivid property descriptions describing all the best features of your home, along with a video tour that will be found on Youtube, Realtor.com, Zillow, Trulia, MLS, and posted to our social media accounts. The real estate marketing provided is second to none. With over 90 percent of all buyer's finding their homes online this is where I concentrate all of my efforts.
The online marketing I am providing my clients has allowed me to become one of the top RE/MAX Real Estate agents in Northern Indiana over the last 20 plus years. Mishawaka is one of the cities I really enjoy selling real estate in with beautiful housing and easy access to major transportation routes. Plus you can enjoy a fun day with family along the beautiful St. Joseph river that runs through Northern Indiana or stop by a beautiful lake nearby in Southern Michigan.
Get my free home sellers guide at the end of today's article! It will give you a step by step checklist to use when selling your home.
Mishawaka Housing and Population Statistics
The median home value is $95,400 and property taxes are lower in Mishaka compared to the national average for the U.S. Below is a neighborhood map from Neighborhood Scout showing the highest and lowest appreciating neighborhoods in Mishawaka Indiana.
Appreciation by Neighborhood for Mishawaka (via Neighborhoodscout.com)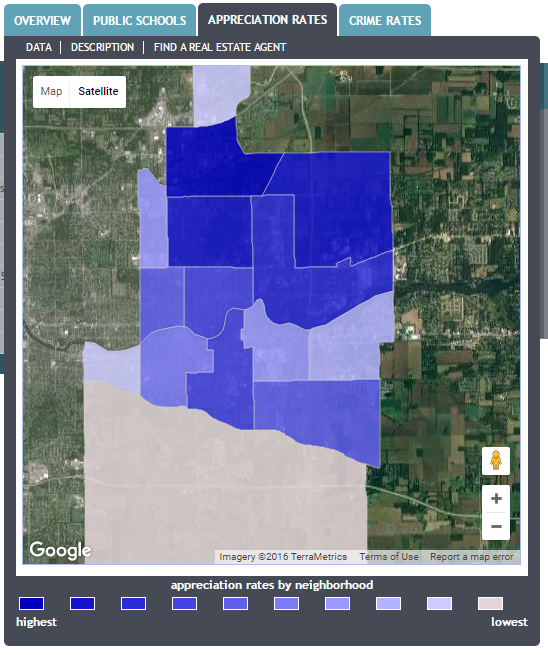 The median age of Mishawaka Real Estate is 41 years but also includes newer construction that has been built in the 1990's and 2000's. Renters make up just 42% of the town's population. Home ownership is 46% and the remaining 12% of homes are unoccupied .
The population is 48,107 as of the 2014. There are 2,838 people per square mile (population density) which is considered moderate to low. Since 2000, the town has experienced a population increase of about 1% percent which shows a pretty consistent population every year as a similar amount of people have moved in as those that have left. The median age is around 35 years old and 41% of the residents are married while 16% are divorced. 34% of the population in Mishawaka has never been married. The average household size is 2.2 people. 42% of people are married while 58% are single.
The cost of living index is 84.50 which is 15% lower than the U.S. average, which is 100 for measuring purposes. This is considered good as your money has more purchasing power in Mishawaka relative to other cities across the United States. Low cost of living is a major benefit of living in a Midwestern city in the United States helping you allocate more money towards vacation and other expenditures you desire.
Mishawaka Economy
The unemployment rate is 6.2% with recent job growth at 3.9%. Future job growth over the next ten years is predicted to be around 41%. Sales tax rate is 7.00% and income tax is at 5.15%. Income per capita is $21,288, which includes all adults and children. For comparison purposes, Grangers income per capita is 38,154, Elkhart is $17,957, and South Bend is $19,064.
Median household income is at $36,990 according to Best Places and the median family household income is at $46,393 to show you a comparison of single households vs family households.The average median household income in the state of Indiana is $49,446.
Mishawaka Population by Occupation
Here is a break down of the job distribution according to BestPlaces.net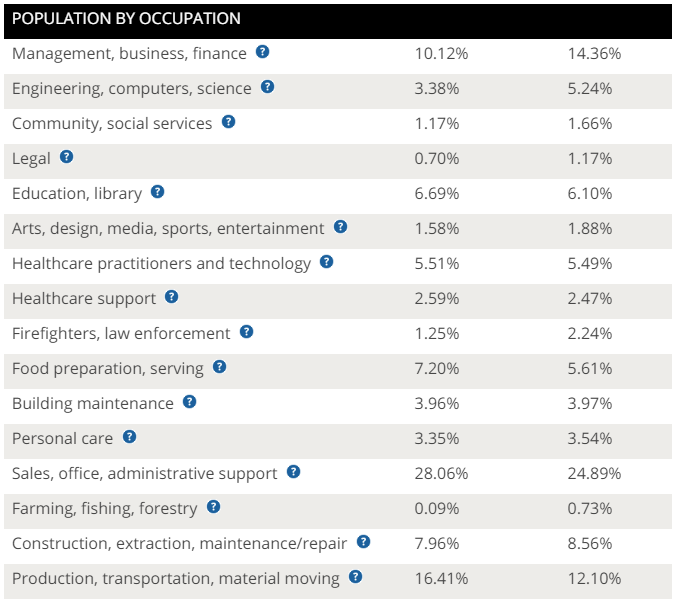 Mishawaka Public Schools
The schools spend $12,478 per student which is lower than the national average of $12,435. There are 21 students per teacher. Real estate agents in Mishawaka IN understand that a solid educational system and good schools are an important aspect of the home buying process. Mishawaka boasts good schools and educational facilities.
Depending on where you relocate to in Mishawaka, your children may end up in different school districts.
Mishawaka High School is the major high school that the students funnel to as they grow up through the school system. You also have Penn-Harris Madison School Corporation which is another popular choice among residents. Along with the Mishawaka and Penn school systems, you have additional options such as the Elkhart Community Schools system in neighboring city Elkhart or if you settle on the far west side of Mishawaka/St.Joseph County, then it's possible your children could be part of the South Bend School District. There are also private schools in the Granger-Mishawaka-South Bend area which may include but are not limited to:
Calvary Christian School

Granger Christian School (Elementary & High School)

New Creation Academy Middle School

Peace Lutheran School

St. Pius X Catholic Middle School

Discovery Middle School
If you have kids in high school or who will be in high school in the near future then it's possible they'll attend one of the following:
Penn High School (Granger-Mishawaka)

Marian High School (Granger-Mishawaka)

Mishawaka High School (Granger-Mishawaka)

South Bend Adams High School

South Bend Clay High School

South Bend Riley High School

South Bend Washington High School

Elkhart Memorial High School
If you're looking for more information on the schools in Granger or a particular school district (Penn Harris, Elkhart Community, Mishawka, or South Bend) then make use of the following links and resources here:
Colleges/Universities with over 2000 Students Closest to Mishawaka, IN
University of Notre Dame

Indiana University of South Bend

Goshen College

Bethel College

Holy Cross College

Saint Mary's College
Mishawaka Weather and Health Index
Mishawaka, Indiana, gets 38 inches of rain per year. The US average is 37. Snowfall is 72 inches. The average US city gets 25 inches of snow per year. The number of days with any measurable precipitation is 144.
On average, there are 174 sunny days per year in Mishawaka Indiana. The July high is around 83 degrees. The January low is 17. Our comfort index, which is based on humidity during the hot months, is a 49 out of 100, where higher is more comfortable. The US average on the comfort index is 44.
Air quality in Mishawaka, Indiana is 92 on a scale to 100 (higher is better). This is based on ozone alert days and number of pollutants in the air, as reported by the EPA. Water quality is 47 on a scale to 100 (higher is better).
Hospitals/Medical Centers Closest To Mishawaka IN
St. Joseph County, which Mishawaka-Granger is part of, is known for having some of the finest medical care anywhere in the United States. Take a look at some of the finest hospitals in close proximity.
Elkhart General Hospital

St. Joseph Regional Medical Center

Memorial Hospital of South Bend

Indiana University Health – Goshen Hospital
Parks & Lakes/Rivers Around Mishawaka IN
Mishawaka is blessed with 26 public parks, each with its own unique natural attributes. For boating enthusiasts, there are four parks with boat launches on the St. Joseph River. Water skiers and sailors can indulge in their pastimes in the river's east section. Incidentally, this is one of the best rivers in the state for fishing. Smallmouth bass, steelhead trout, coho salmon, chinook salmon and walleye are plentiful in their seasons.
Mishawaka parks also boast 2 excellent swimming pools, 4 "splashpads" and accommodations for tennis and various field sports. "Disc golf" is another popular park sport (Wilson). For more traditional golfers the 18-hole Eberhart-Petro Municipal Golf Course offers plenty of challenges. In the winter, skaters can show off their skills on the ice rink at Merrifield Park or thrill to the lighted tubing runs at Wilson Park.
Transportation and Commute
The average commute time to work is 19 minutes compared to 22 minutes for surrounding cities. Major transportation includes access to nearby high ways, trains, and airport.
Amtrak stations and the South Bend Regional Airport can be found in South Bend, Indiana which is just 7 miles west of Mishawaka. There is city bus service if you need to commute via bus or trolley. Taxis and Ubers are also easy to utilize as transportation services if needed. The Amtrak station in South Bend will run you to Chicago if you're looking for a fun day trip with family or need to commute to a job.
Restaurants near or in Mishawaka
There are a lot of choices when you want to head out and get a nice meal not too far from home. Restaurants choices near Mishawaka Indiana include:
Evil Czech Brewery

Corndance Tavern

Granite City Food and Brewery

Ruth's Chris Steakhouse

Outback Steakhouse
You'll also find every major fast food chain you can think of (McDonald's, Burger King, Taco Bell, Subway, Jimmy Johns, Panda Express, etc.)
If you're out near University Park Mall, you'll have access to their food court which contains Subway, Pizza, Chinese Food, Chick-fil-a, and other great options.
You can see a list of the top 10 restaurants near Granger and the top 10 restaurants near Mishawaka via Trip Advisor.
Mishawaka Indiana Realtor – Kevin Foy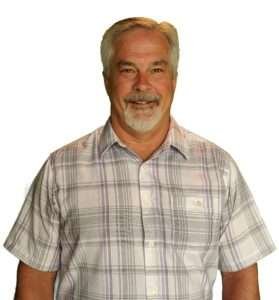 If you're thinking about selling your Mishawaka or Granger Indiana home, investment property or other Real Estate, allow me to help make your sale a fantastic experience. When you hire a Realtor today there should be a number of important considerations including:
Their experience selling homes similar to yours

Their knowledge of technology

Their ability to effectively market your home

Low average days on market of sold homes

Ability to harvest offers from buyers above asking price
I would welcome the opportunity to discuss why I am a well respected Realtor servicing Mishawaka-Granger and the Northern Indiana area.
I'd love to share my marketing package and how I put my client's homes in the spotlight online.
There are no other Mishawaka Realtors who provide anything close to the social media integration or search engine optimized results you will see at this and other real estate websites I own.
If you are in the market to buy, you will find a variety of residential options to choose from to fit your lifestyle budget and needs. Whether you are looking to buy an affordable townhome or an executive home, let me be your guide to the Mishawaka Real Estate market as an educated buyer's agent.
Whether you're looking to buy or sell Real Estate, my goal is to provide advice you can count on and exceptional customer service utilizing the latest, cutting-edge Internet marketing technology available. I have been helping folks move in and out of town for the last three decades.
A few of my accomplishments that I am proud of include:
Full-time Realtor for past 35+ years servicing Northern Indiana and Southern Michigan including Elkhart, Granger, Mishawaka, South Bend, Goshen, Edwardsburg, Bristol, Middlebury and Wakarusa.

Certified – Member of National Association of Realtors.

Certified – Accredited Buyers Representative (ABR)

Certified – Graduate Realtor Institute (GRI)
I have been listing and selling homes in and around Northern Indiana for the last 35+ years. Call or send me an email so we can discuss how I can best serve your Mishawaka IN Real Estate needs!
Kevin Foy ~ Realtors Mishawaka IN
RE/MAX Oak Crest Realty
Phone: 574.387.2501
Email: Kevin@teamfoy.com
Connect with Kevin Foy's Real Estate Agent profile on Facebook
To see all Mishawaka and Granger IN homes for sale click the link provided below.
Mishawaka Indiana Homes for Sale via KevinFoyListings.com
Read More Guides: