Knollwood Granger IN Homes
Knollwood is a friendly and interactive neighborhood, situated between two beautiful 18 hole golf courses.
This Granger neighborhood's location is conveniently located near the Indiana/Michigan state line, and is close to shopping, restaurants, state of the art medical facilities, a local Farmer's Market, County Parks, schools, libraries and the University of Notre Dame, Indiana University South Bend, and Ivy Tech.
The neighborhood boasts an abundance of mature trees and wildlife. It is governed by covenants and restrictions, designed for safety and to keep home values at their maximum. The homes in Knollwood are unique in design, and all new neighbors are welcomed enthusiastically!
Here are some quick facts about Knollwood as well as a link to the golf course website and HOA website.
Selling Your House? Click here for a market analysis of your home
Knollwood Homes for Sale – Granger IN
To see current homes for sale in Knollwood Granger IN, please contact Team Foy and we'll be happy to send over a list of active homes for sale in Knollwood as well as set up any showings of these properties!
Email Nick@TeamFoy.com or text 574-538-8801 with a message requesting Knollwood Granger IN homes for sale.
Recently Sold Homes in Knollwood Granger Indiana
For an updated and complete list of homes that have sold in Knollwood subdivision in Granger IN, please contact us Nick@TeamFoy.com
6/28/2019 – $334,000 – 50766 Haven Hill Drive Granger
6/17/2019 – $175,500 – 16245 Baywood Lane Granger
6/4/2019 – $240,000 – 50695 Ridgemoor Way Granger
5/23/2019 – $465,000 – 17022 Shandwick Lane Granger
5/10/2019 – $270,000 – 16182 Baywood Lane Granger
4/10/2019 – $296,000 – 50700 Regency Park Drive Granger
4/4/2019 – $250,000 – 16323 Barryknoll Way Granger
3/15/2019 – $190,000 – 16585 Barryknoll Way Granger
2/22/2019 – $190,000 – 50725 Regency Park Drive Granger
1/2/2019 – $130,000 – 50740 Regency Park Drive Granger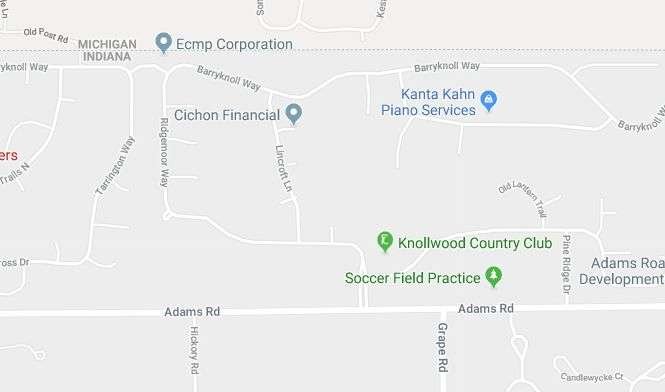 Join the Team Foy Newsletter
Never miss the latest news on your local housing market. Subscribe to get updates and more from Team Foy with RE/MAX Oak Crest in Indiana.