Harris Crossing Granger IN
The Harris Crossing Granger neighborhood contains 160 homes and is located off of Adams Road near the Indiana and Michigan border. HOA fees are around $100 but may be subject to change. You can learn more via their website linked below.
HOA Website: http://harriscrossing46530.org/
Harris Crossing is located in the Penn-Harris-Madison School District.
Selling Your House? Click here for  a market analysis of your Harris Crossing home
Harris Crossing Homes for Sale – Granger IN
To see current homes for sale in Harris Crossing Granger IN, please contact Team Foy and we'll be happy to send over a list of active homes for sale in Harris Crossing as well as set up any showings of these properties!
Email Nick@TeamFoy.com or text 574-538-8801 with a message requesting Harris Crossing Granger IN homes for sale.
Recently Sold Homes in Harris Crossing Granger Indiana
For an updated and complete list of homes that have sold in Harris Crossing subdivision in Granger IN, please contact us Nick@TeamFoy.com
6/24/2019 – $211,000 – 11523 Catlin Bridge Court Granger
6/14/2019 – $198,500 – 50733 Covered Bridge Drive Granger
5/31/2019 – $261,000 – 11705 Madison County Circle Granger
5/9/2019 – $235,000 – 50663 Rush Creek Court Granger
3/4/2019 – $232,000 – 50618 Covered Bridge Drive Granger
2/4/2019 – $198,000 – 50638 Covered Bridge Drive Granger
11/16/2018 – $184,173 – 50638 Covered Bridge Granger
11/6/2018 – $260,000 – 50860 Oakbridge Court Granger
10/12/2018 – $275,000 – 11539 E Wolfe Bridge Drive Granger
10/11/2018 – $222,000 – 11445 Harbridge Granger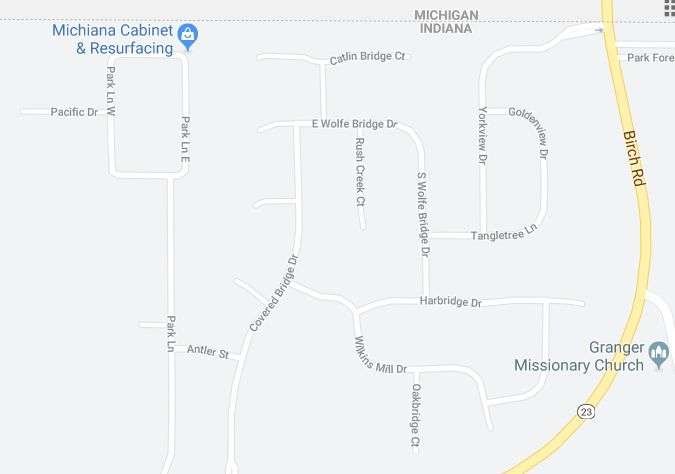 Join the Team Foy Newsletter
Never miss the latest news on your local housing market. Subscribe to get updates and more from Team Foy with RE/MAX Oak Crest in Indiana.