Rieth Park Homes Goshen IN
Rieth Park is a residential neighborhood district located in Goshen, Indiana. It's on the south side of Goshen and sits next to Parkside.
The streets in this neighborhood district are between Millrace Park and Fiddler's Pond but only runs as far west as 9th street which then turns into Parkside.
Interested in looking at housing in the Rieth Park area? Call or text 574-538-8801 or email Nick@TeamFoy.com.
Boundaries & Map
Plymouth Avenue to the north, 16th Street to the east, College Avenue to the south and 9th Street to the west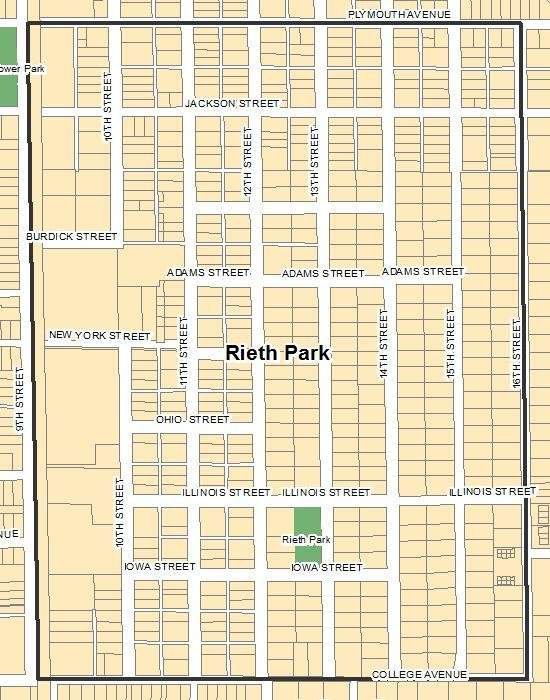 Recently Sold Homes Rieth Park Goshen IN
Housing prices in the Rieth Park neighborhood range from a low of $12,000 to a high of $199,900 with an average price in recent years around $80,000 to $140,000.
Here's a list of recently sold homes in the Rieth Park district of Goshen:
7/10/2019 – $118,000 – 1105 S 14th Street Goshen
6/26/2019 – $75,000 – 1302 S 11th Street Goshen
5/29/2019 – $71,500 – 1014 S 11th Street Goshen
5/6/2019 – $105,000 – 916 S 12th Street Goshen
4/30/2019 – $155,000 – 1102 S 13th Street Goshen
4/25/2019 – $159,900 – 1610 S 15th Street Goshen
4/15/2019 – $119,900 – 1521 S 12th Street Goshen
4/5/2019 – $133,000 – 1006 S 12th Street Goshen
4/5/2019 – $132,000 – 1014 S 14th Street Goshen
1/18/2019 – $106,000 – 1202 S 11th Street Goshen
1/4/2019 – $81,500 – 1529 S 12th Street Goshen
Rieth Park Homes for Sale in Goshen
Get an active list of homes for sale in Rieth Park and Goshen, IN by filling out our property criteria form below with information like price range, bedrooms, bathrooms, and other features you admire to have in your next home you purchase.
Join the Team Foy Newsletter
Never miss the latest news on your local housing market. Subscribe to get updates and more from Team Foy with RE/MAX Oak Crest in Indiana.