East View Estates Homes for Sale – Bristol Indiana
East View Estates is a residential neighborhood district located in Bristol, Indiana.
East View Estates is part of the Concord School System:
Elementary – Eastwood
Middle School – Pierre Moran
High School – Central
Interested in looking at housing in the East View Estates area? Call or text 574-538-8801 or email Nick@TeamFoy.com.
Boundaries & Map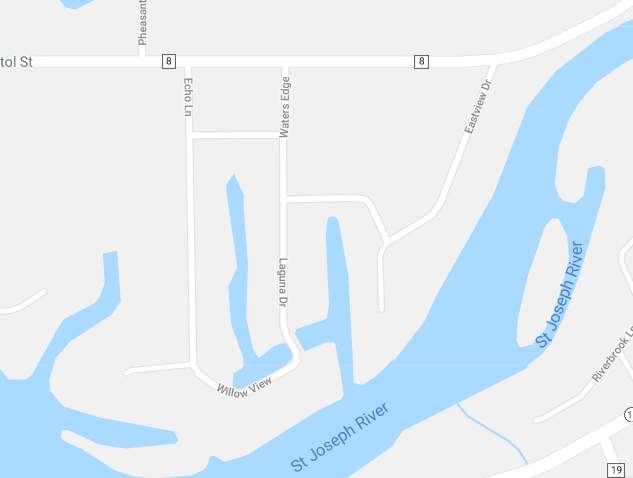 Recently Sold Homes East View Estates Bristol IN
Housing prices in the East View Estates neighborhood range in the $150,000 to $225,000 on average with water homes on the St. Joseph river selling for more. These homes were mostly built in the 1960's, 1970's, and 1980's, but some have been newer builds.
Here's a list of recently sold homes in the East View Estates housing district of Bristol:
9/25/2018 – $270,000 – 21330 Echo Lane E Bristol
4/27/2017 – $154,000 – 54181 Laguna Drive Bristol
4/7/2017 – $204,000 – 54165 Eastview Drive Bristol
3/27/2017 – $270,000 – 54140 Eastview Drive Bristol
8/12/2016 – $160,000 – 54206 Laguna Dr. Bristol
4/8/2016 – $193,000 – 54190 Echo Lane Bristol
East View Estates Homes for Sale in Bristol
Get an active list of homes for sale in East View Estates as well as Bristol, IN by filling out our property criteria form below with information like price range, bedrooms, bathrooms, and other features you admire to have in your next home you purchase.
Join the Team Foy Newsletter
Never miss the latest news on your local housing market. Subscribe to get updates and more from Team Foy with RE/MAX Oak Crest in Indiana.