REMAX Oakcrest Realty in Elkhart Indiana – Realtor Kevin Foy
If you're looking for a reputable real estate brokerage in Northern Indiana, RE/MAX Oakcrest Realty is that company!
RE/MAX Oakcrest (formerly RE/MAX Excellence) is the #1 office in Elkhart County for sales volume and ranks #28 nationally among RE/MAX franchises for transactions per real estate agent (2017-2018 Report).
Choosing the right real estate company to work with is an important decision!
There are 3 major factors that impact your decision:
Will the real estate agent deliver exceptional service?
Do you trust the real estate agent?
Do you trust the company behind the real estate agent?
If your confidence falls on a scale of 7 out of 10 or higher for all 3 questions, then you're likely to proceed forward working with that RE/MAX real estate agent in Elkhart County.
For example, when you trust a company like REMAX Oakcrest, you're likely to also trust the agents working for REMAX Oakcrest as well. And you should.
A real estate brokerage company doesn't become great on its own. It takes talented, hard working, client focused agents to make that franchise a success.
RE/MAX Oakcrest (formerly RE/MAX Excellence) has been a top producing firm in Elkhart County for many years, providing exceptional service to its clients and has become a well known company among Michiana residents.
RE/MAX Real Estate Agent Kevin Foy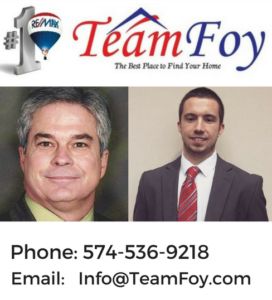 I'm Kevin Foy, a broker associate with RE/MAX Oakcrest and I've been helping buyers, sellers, investors for over 35+ years.
Now that you trust the reputation of my company, RE/MAX Oakcrest, the next step is to build trust with me.
I'd love to have a no pressure phone call or email communication with you to learn more about your needs, your situation, and what kind of solutions I can come up with to help you out as best as possible.
I'm not a commission focused agent like many realtors around Elkhart and St. Joseph County. I understand that if I take exceptional care of my clients, the money will follow as well as referrals to new business from my happy clients.
I've been selling real estate as an agent in Elkhart for almost 4 decades so you're going to get someone with lots of knowledge and expertise to properly guide you through the real estate transaction.
If you're interested in my services to help you purchase a home, sell your home, or find investment property, then reach out via the contact info below.
Email: Kevin@TeamFoy.com
Phone: (574)-536-9218
Home Search
Selling Your Home with Kevin Foy, RE/MAX
When it comes time to sell your home, RE/MAX is a very well known brand around the world and leads the world in transactions, sales volume, and many other categories. As a real estate agent for RE/MAX, I can assure you our services will stand above those you'll find at other brokerages around Elkhart County.