Elkhart County Housing Market Report – February 2017
I'm excited to share February's 2017 real estate market data with you today for Elkhart County. This includes all the data for the county which includes cities: Elkhart, Middlebury, Goshen, and Bristol. We also share our housing report data and video versions of the updates on our Facebook page.
Elkhart County Real Estate Data:
February Homes Sold = 121 vs 115 (2016)
February Days on Market = 62 vs 84 (2016)
February Average Sold Price = $150,400 vs $123,800 (2016)
As you can see, homes sold was similar compared to February 2016 but low overall. The low inventory though, is causing prices to increase due to the high demand from buyers competing for limited houses on the market. Elkhart County at the time of this post only has 383 homes for sale which is down compared to 450 a few months ago and down from the historical average of about 700. There's about 3 month's supply of homes which indicates a strong seller's market. Additional good news for sellers is that the days on market is down, meaning homes are selling faster than they were one year ago.
I also want to share with you the results of last year in the spring time so you can see what's potentially in store again this spring. A detailed spreadsheet is attached for you to analyze!
February 2016: $123,800 (84 days on market)
March 2016: $153,200 (77 days on market)
April 2016: $126,900 (64 days on market)
May 2016: $143,600 (56 days on market)
June 2016: $158,700 (55 days on market)
July 2016: $162,600 (49 days on market)
See the Full Break Down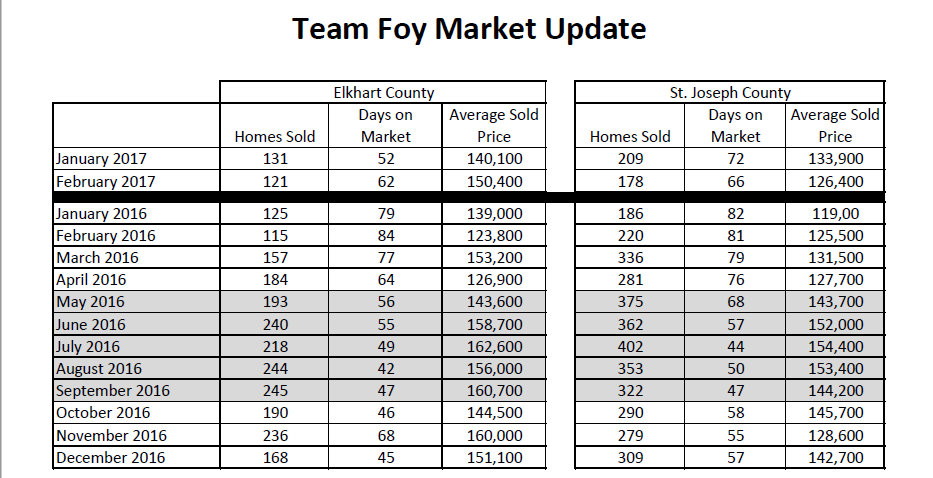 Looking at the numbers from last year in Elkhart, it's clear the housing market heats up in the spring and summer with prices rising and homes selling faster compared to the fall and winter months.
This means March is a great month to start preparing your house for sale if you are thinking about moving. We'd love to stop by and take a look at the property, pointing out the repairs that would increase the value of your home the most and point out things you don't need to worry about as much, saving you unnecessary spending.
We can also run a more detailed market analysis specific to your home and surrounding neighborhood to give you a good idea of what it would sell for if you decided to list it on the market this spring.
Lastly, we can break down the different fees and costs for you to help you understand your net profit that would result from the sale of your home and how much funds you'd have to carry over to the next property you are purchasing!
Thanks for your time today. You can find Team Foy's contact information below and we look forward to hearing from you! (:
Contact Team Foy – RE/MAX Realtors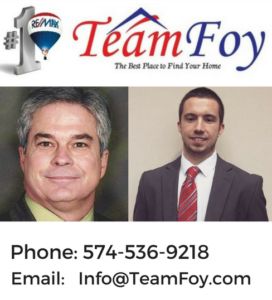 If you have any questions about Elkhart schools or the Elkhart Community School Corporation, then give us a call. We'd be happy to assist you during the home buying process and finding a home near Elkhart schools that you feel are the best fit for your children to attend.
Nick Foy: (574) 387-2501
Kevin Foy: (574) 536-9218
Email: Nick@TeamFoy.com
Be sure to subscribe below to our email newsletter to receive the latest updates in the Elkhart County Real Estate Market.